This page has no translation to Português yet. The original English version is below. If you'd like to help, great! See how to
translate a documentation page
in the contribution guide.
Note
This is a web-version of a tutorial chapter embedded right into the XOD IDE. To get a better learning experience we recommend to install the
desktop IDE
or start the
browser-based IDE
, and you'll see the same tutorial there.
Accumulator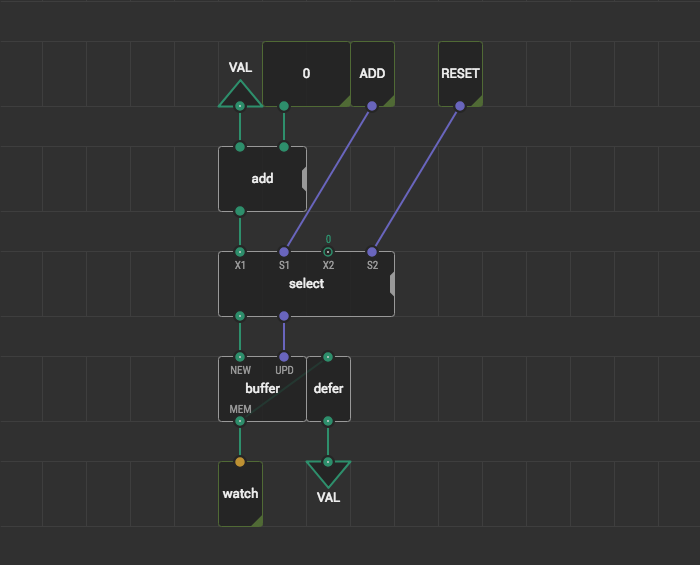 Let's make a device which helps us in adding numbers. We will learn how to memorize values and update them.
The XOD standard library contains a buffer node which memorizes the input value when it receives a pulse.
To make some calculations and apply them to a stored value we should make a loop from the buffer output to the calculations and back to the buffer input.
To avoid limitless calculations and make it possible to reset the buffer we need a select node. It feeds the calculation result to the buffer node on a pulse.
In this example we're using the add node, but the calculation may be arbitrary complex.
Exercise
Examine how the input value and pulses affect the stored result.
Upload the program.
Change the tweak-number value.
Send pulse from the "ADD" node.
Repeat the second and third steps a few times.
Send pulse from "RESET".
Replace tweak nodes with a coin acceptor and button to make a ticket system or photo booth.