This page has no translation to Italiano yet. The original English version is below. If you'd like to help, great! See how to
translate a documentation page
in the contribution guide.
Note
This is a web-version of a tutorial chapter embedded right into the XOD IDE. To get a better learning experience we recommend to install the
desktop IDE
or start the
browser-based IDE
, and you'll see the same tutorial there.
Tweaks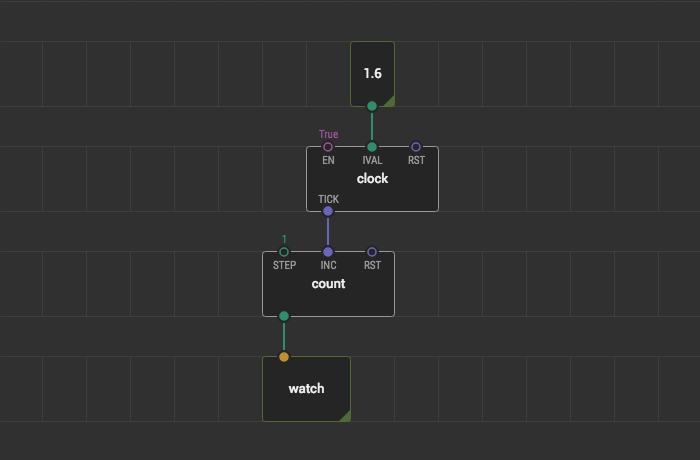 Restarting a program every time you change a value in the Inspector is inconvenient. With tweak-* nodes, you can adjust values while the program is running.
On the current patch we added a tweak-number linked to IVAL already.
Exercise
Let's learn how to add new tweaks to your program and control them in runtime.
Add tweak-number node to the patch.
Link tweak-number's output pin to count's STEP pin.
Start the simulation.
Double click the tweak node; the text box for tweak value will focus in Inspector.
Change the value to 2.0 and press Enter.
Adjust the value of the tweak linked to clock's IVAL pin.
Take a note how the changes are immediately applied while you are in the simulation mode. Try some other values and see how they behave.
👆 Save some typing
Use Up/Down keyboard keys in the Inspector to adjust numeric values by 0.1. Hold Shift to adjust by 1.0.